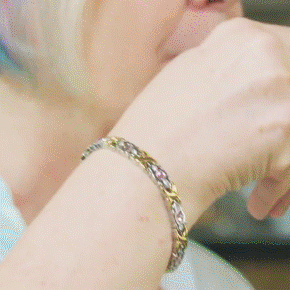 Magnetic Therapy Menopause Reliving Bracelet is clinically shown to relieve all menopause symptoms tested.

COMPLETE MENOPAUSE RELIEF - This all-in-one magnetic formula reduces hot flashes & night sweats, supports restful sleep, boosts energy, helps to manage daily stress, mood, irritability and menopause related anxiety.

HOT FLASHES RELIVING BRACELET - Hot flashes are one common menopause symptom that can last for years. The symptoms include feeling warm suddenly throughout the day and evening.

HELPS MANAGE WEIGHT DURING MENOPAUSE - During menopause, your serotonin levels naturally decline which can result in feelings of hunger and a less efficient metabolism.

IMPROVES METABOLISM & BLOOD CIRCULATION - This Negative Ion And Germanium improves metabolism and blood circulation promoting fast and healthy weight loss.
RELIEF JOINT PAIN - Menopause Reliving Bracelet removes joint pains. Used for sports joints aches, promotes relaxation, balance sleep.


BIO-MAGNETIC BRACELET - The bracelet adopts a unique bio-magnetic material that will improve your sleeping quality.


Package Include: 1 x Magnetic Therapy Menopause Reliving Bracelet
(Colors: Silver, Gold, Rose Gold, Gold & Silver)