An easier and more efficient way to instantly duplicate any shapes. Precisely creates an instant template for curved and irregular-shaped objects.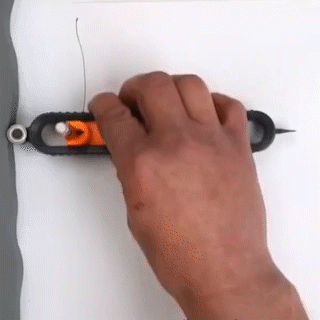 No more guesswork! No complex operations!! Start accurate shape duplicating with Precise Contour Gauge!!!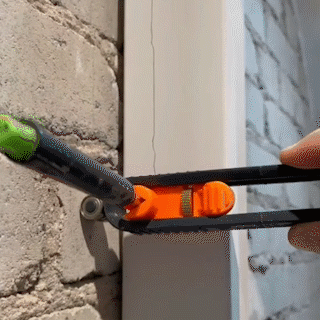 Suitable for woodworking, auto body, auto metal sheet, stainless steel, or any job of contour duplication. Ideal for tiles fitting, laminate and carpet cutting, ceramic and tool mold taking, etc.
MAIN FEATURES
▶ Precise Shape Duplication
An easier way to duplicate various shapes, ideal for tiles fitting, laminate and carpet cutting, ceramic and tool mold taking, etc.
▶ Adjustable and Locking Feature
The tightness can be adjusted according to your needs. It is especially suitable for drawing the outline of irregular and complex objects. It can be locked and fixed after each adjustment to ensure precision accuracy.
▶ Easy to Use
Simple operation namely pushes namely draw, one-handed adjustment. Fix the pencil in the middle, pushing while drawing, easy to draw the lines without error.
▶ Both Ends Can Be Used
Designed with pulley end and pointer end, both ends can be used. Smoother drawing with pulley end, while accurate and easy drawing with pointer end. The pencil clip can be moved up and down, which is convenient for exchanging the shape end.
▶ Quality and Durable
Made of high-quality metal, it is strong and durable. Easy to carry and store, just put it in your toolbox and take it everywhere with you.
SPECIFICATIONS
Material: Metal + ABS
Net Weight: 182g
Product Size: 233x35x27mm/9.2" x 1.4" x 1.1"
Package Includes: 1x Precise Contour Gauge with Lock
NOTE
Due to manual measurements, please allow slight measurement deviations.
Due to the different display and lighting effects, the actual color of the item may be slightly different from the color displayed in the picture.
1. Do I need to have an account to order?
No, you can also place an order as a guest. But, there are some perks if you have an account with us:
Quick checkout process
Easily view your order status and order history
Receive updates detailing our new releases and special promotions
2. What payment methods do you accept?
We accept all major credit cards (VISA, Mastercard, Discover, AMEX) and PayPal payments.
3. How secure is my online order?
When purchasing online using your credit card, all of your information is entered into a SSL secure web page. Your information is then SSL-encrypted and sent directly to our credit card provider's network, where your card and transaction is authorized and approved. Your credit card information is not stored on our servers.
4. Are there any exchange rates?
All of our transactions are based in US Dollars. If your credit card is based in another currency, your order total will be calculated in accordance with the daily exchange rate of the date your card issuer processes the transaction.
5. How do I set my shipping address?
Since our website and service are based on English, all the information that you typed in is required to be English input method, including punctuations. If certain letters of your address contain Non-English letters, you are advised to use the similar English ones instead. For example, you may change letter "?" to "c".
6. Can I change my shipping address after placing an order?
Please be advised that your shipping address cannot be revised after the order has been processed or shipped. Kindly update your shipping address to your residential address instead of your vacational address as we do not know how long the destination's customs department will have the package on hold.
7. How long does shipping take & how can I track my package?
The delivery time is based on the shipping option that you have chosen. Once the order has shipped, we will email your tracking number and tracking website. We are not responsible for delays caused by the customs department in your country.
8. What Do I Do If I Have Missing Items In My Order?
If something is still missing, please contact us immediately at service@emperorlights.com .
If you still have any question, please contact us directly at email

service@emperorlights.com

.